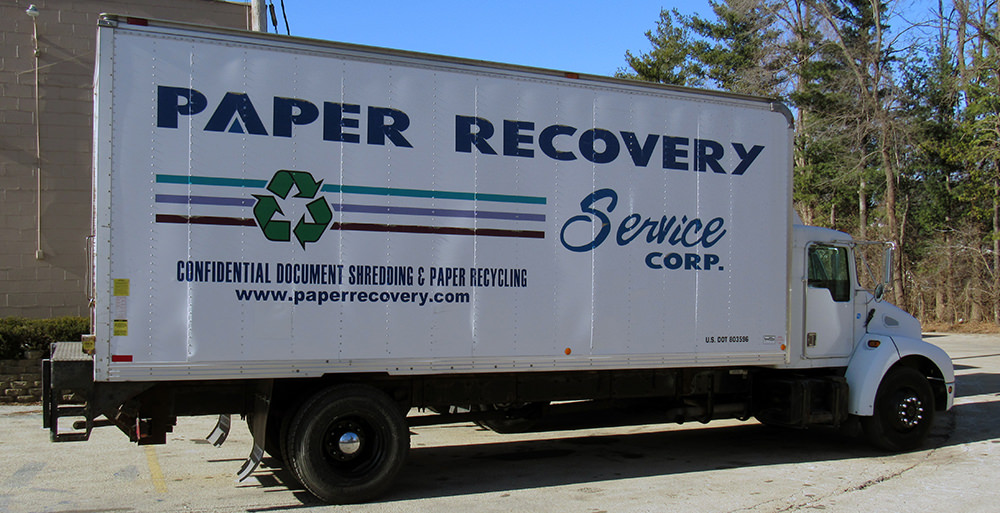 Paper Recovery Service Corp. was a company founded 'ahead of its time" in 1994 by Frank A. Graceffa.
Anticipating a growing need throughout the stateline for an increase in paper recycling capacity, Frank began building what today has become the stateline area's leading document shredding /destruction and metal and paper recycling company.
The business started small, with just a forklift and one downstroke baling machine. As word spread that Frank 'treated customers right' the business began growing rapidly. Frank Jr. came on board in 2001 and the company literally began putting the 'pedal to the metal', with the addition of Paper Recovery's Metals Division to buy everything from aluminum cans to large industrial and structural steel.
No wonder more stateline manufacturers, retailers, professional service businesses and individuals count on Paper Recovery Service Corp. for the easiest, most convenient and economical way to recycle all their paper and metal waste products – through Paper Recovery.
Contact Paper Recovery by calling 815.636.2329.
Common Areas We Serve
Belvidere Paper Shredding | Madison Paper Shredding | Walworth Paper Shredding | Belvidere Cardboard Recycling | Belvidere Metal Recycling | Madison Cardboard Recycling | South Beloit Cardboard Recycling | Walworth County Cardboard Recycling | Beloit Cardboard Recycling | Janesville Cardboard Recycling | Dakota Paper Shredding | Freeport Paper Shredding | Janesville Paper Shredding | South Beloit Paper Shredding | Beloit Paper Shredding | Freeport Metal Recycling | Dixon Metal Recycling | Sterling Metal Recycling | Peru Metal Recycling | Rock Falls Metal Recycling | Timberlane Cardboard Recycling | Roscoe Cardboard Recycling | Harvard Cardboard Recycling | Marengo Cardboard Recycling | Freeport Cardboard Recycling | Janesville Aluminum Can Recycling | Madison Aluminum Can Recycling | Beloit Aluminum Can Recycling | Freeport Aluminum Can Recycling | dixon Aluminum Can Recycling | Sterling Aluminum Can Recycling | Mendota Aluminum Can Recycling | Oregon Aluminum Can Recycling | Elgin Aluminum Can Recycling | Crystal Lake Aluminum Can Recycling | McHenry Aluminum Can Recycling | Belvidere Aluminum Can Recycling | DeKalb Aluminum Can Recycling | Elgin Scrap Metal Recycling | Crystal Lake Scrap Metal Recycling | McHenry Scrap Metal Recycling | Belvidere Scrap Metal Recycling | DeKalb Scrap Metal Recycling | Freeport Scrap Metal Recycling | Dixon Scrap Metal Recycling | Sterling Scrap Metal Recycling | Mendota Scrap Metal Recycling | Oregon Scrap Metal Recycling | Janesville Scrap Metal Recycling | Madison Scrap Metal Recycling | Roscoe Scrap Metal Recycling | Harvard Scrap Metal Recycling | Beloit Scrap Metal Recycling | LaSalle Aluminum Can Recycling | Rock Falls Scrap Metal Recycling | LaSalle Scrap Metal Recycling | LaSalle Metal Recycling Yard | Madison Metal Recycling Yard | Mendota Metal Recycling Yard | Harvard Metal Recycling Yard | Roscoe Metal Recycling Yard | Oregon Metal Recycling Yard | Beloit Metal Recycling Yard | Elgin Metal Recycling Yard | Crystal Lake Metal Recycling Yard | McHenry Metal Recycling Yard | DeKalb Metal Recycling Yard | Janesville Metal Recycling Yard | Elgin Paper Shredding | Crystal Lake Paper Shredding | McHenry Paper Shredding | DeKalb Paper Shredding | Dixon Paper Shredding | Sterling Paper Shredding | Mendota Paper Shredding | Harvard Paper Shredding | Roscoe Paper Shredding | Oregon Paper Shredding | Elgin Document Destruction | Crystal Lake Document Destruction | McHenry Document Destruction | Dekalb Document Destruction | Dixon Document Destruction | Elgin Cardboard Recycling | Crystal Lake Cardboard Recycling | McHenry Cardboard Recycling | DeKalb Cardboard Recycling | Dixon Cardboard Recycling | Sterling Cardboard Recycling | Mendota Cardboard Recycling | Oregon Cardboard Recycling | Sterling Document Destruction | Oregon Document Destruction | Janesville Document Destruction | Madison Document Destruction | Roscoe Document Destruction | Beloit Document Destruction | Harvard Document Destruction | Machesney Park Document Destruction | Loves Park Document Destruction | Rockton Document Destruction | Sycamore Document Destruction | Machesney Park Paper Shredding | Rockton Paper Shredding | Sycamore Paper Shredding | Machesney Park Scrap Metal Recycling | Rockton Scrap Metal Recycling | Loves Park Scrap Metal Recycling | Sycamore Scrap Metal Recycling | Machesney Park Cardboard Recycling | Loves Park Cardboard Recycling | Rockton Cardboard Recycling | Sycamore Cardboard Recycling | Machesney Park Aluminum Can Recycling | Rockton Aluminum Can Recycling | Loves Park Aluminum Can Recycling | Sycamore Aluminum Can Recycling | Rockford Aluminum Can Recycling | South Beloit Aluminum Can Recycling | Rockford Cardboard Recycling | Rockford Document Destruction | South Beloit Document Destruction | Belvidere Document Destruction | Delavan Document Destruction | Loves Park Paper Shredding | Rockford Paper Shredding | Rockford Scrap Metal Recycling | South Beloit Scrap Metal Recycling | Lake Geneva Paper Shredding | Geneva Paper Shredding | Elkhorn Paper Shredding | Lake Geneva Scrap Metal Recycling | Geneva Scrap Metal Recycling | Elkhorn Scrap Metal Recycling | Lake Geneva Document Destruction | Geneva Document Destruction | Elkhorn Document Destruction | Lake Geneva Aluminum Can Recycling | Geneva Aluminum Can Recycling | Elkhorn Aluminum Can Recycling | Lake Geneva Cardboard Recycling | Geneva Cardboard Recycling | Elkhorn Cardboard Recycling | LaSalle Document Destruction | Freeport Document Destruction | Dakota Document Destruction | Walworth County Document Destruction | Timberlane Document Destruction | Mendota Document Destruction | Walworth County Aluminum Can Recycling | Delavan Aluminum Can Recycling | Timberlane Paper Shredding | LaSalle Paper Shredding | Delavan Paper Shredding | Walworth County Scrap Metal Recycling | Timberlane Scrap Metal Recycling | Delavan Scrap Metal Recycling | Dakota Scrap Metal Recycling | Winnebago County Aluminum Can Recycling | Boone County Aluminum Can Recycling | Walworth Aluminum Can Recycling | Winnebago County Scrap Metal Recycling | Boone County Scrap Metal Recycling | Walworth Scrap Metal Recycling | Walworth County Paper Shredding | Boone County Paper Shredding | Winnebago County Paper Shredding | Winnebago County Document Destruction | Boone County Document Destruction | Walworth Document Destruction | Boone County Cardboard Recycling | Winnebago County Cardboard Recycling | Walworth Cardboard Recycling | McHenry County Aluminum Can Recycling | Kane County Aluminum Can Recycling | Cook County Aluminum Can Recycling | McHenry County Scrap Metal Recycling | Kane County Scrap Metal Recycling | Cook County Scrap Metal Recycling | McHenry County Paper Shredding | Kane County Paper Shredding | Cook County Paper Shredding | Kane County Document Destruction | McHenry County Document Destruction | Cook County Document Destruction | Cook County Cardboard Recycling | Kane County Cardboard Recycling | McHenry County Cardboard Recycling | Machesney Park Hard Drive Recycling | Loves Park Hard Drive Recycling | Roscoe Hard Drive Recycling | Rockford Hard Drive Recycling | Rochelle Hard Drive Recycling | Machesney Park Hard Drive Destruction | Loves Park Hard Drive Destruction | Roscoe Hard Drive Destruction | Rochelle Hard Drive Destruction | Rockford Hard Drive Destruction | South Beloit Hard Drive Destruction | Rockton Hard Drive Destruction | Janesville Hard Drive Destruction | Freeport Hard Drive Destruction | Beloit Hard Drive Destruction | Freeport Hard Drive Recycling | Beloit Hard Drive Recycling | South Beloit Hard Drive Recycling | Rockton Hard Drive Recycling | Janesville Hard Drive Recycling | Sycamore Hard Drive Shredding | Rockford Hard Drive Shredding | Rochelle Hard Drive Shredding | Loves Park Hard Drive Shredding | Freeport Hard Drive Shredding | Dixon Hard Drive Shredding | DeKalb Hard Drive Shredding | DeKalb Hard Drive Destruction | Sycamore Hard Drive Destruction | Dixon Hard Drive Destruction